Our wax carving class is perfect place to start if you want to give wax carving a try or wish to refresh or develop your skills even further!
We understand how daunting it is to start something new & how easy it is to lose it, if you don't use it 😊 We pride ourselves on small intimate classes, this is so that;

1. You, our students feel comfortable in your new explorations

2. Our teachers can really get to know you and help and guide you through each class.
What is wax carving and how does it work?
 For centuries, Jewellery artisans have been sculpting their own Jewellery designs from wax!
You start by thinking about what it is you would like to create, you can bring your ideas into your first class or even email them on beforehand to get some feedback before you come in! We would recommend having an idea in mind with some images or simple sketches to articulate your idea, as this will make the most out of your class time that you have with your experienced Tutor! 
You have the option to design a ring or a pendant. Once your design is clear, the Tutor will then show you, using different techniques, how to file, measure and cut the wax.
Embrace your creativity with your designs while our expert will help you bring your idea to life, whilst bettering your skills.
This course can be seen as skills development course, but we are happy to welcome beginners.
Depending on your level and how comfortable you are, we can do more complicated shapes, relief work (add wax to create a pattern rather that take away) and fitted bands (bands that fit around another ring IE a wedding ring fits alongside an engagement ring)
The wax is smoother and much nicer to work with rather than carving within the silver directly, this is why this technique is often used within the industry.
Once your finished carving your design, it's then ready to be cast!!
Casting
We then take your carving to professional casters who take a mould of your design. They then pour the silver into your mould to create your piece of Jewellery. 
The finished touches
Once your piece has been returned, it will need to be polished and cleaned up so it's ready to wear!
How long does the course run for?

We offer a 5 week course on Mondays or Tuesdays, 6:00pm – 9:00pm. Please note our Tuesday Course is now fully booked!
Our next course is commencing on the 21st September, the course will run on 21st, 28th of September, 5th and 12th of October with the final class being held on 2nd November 2020.
(Please note, there will be no class held on 19th of October as this will be the week that your carvings will be send to the professional Casters, there will also be no class held on Monday, 26th of October due to the bank holiday)
Why learn with Silver Works?

Unlike traditional institutions, our priority is to help you learn & develop a new skill, not profit.
This is why we offer only 6 places within our bespoke courses, so you get the most out of each class!
You will be taught by a highly experienced goldsmith/silversmith, working within the industry who has an abundance of Jewellery creation, design and teaching experience.
What does the course cover?

You will learn all the basic skills needed for traditional wax carving techniques. but also this course will be designed with you and your skill set in mind and so there is every possibility there will be more for you to learn if you so wish 🙂
On completion of this wax carving course, you will have;
Created your design
Learn & understand all the techniques necessary for carving in wax
Have your pieces sent off for casting.
Post casting preparation; ensuring your pieces are ready to wear!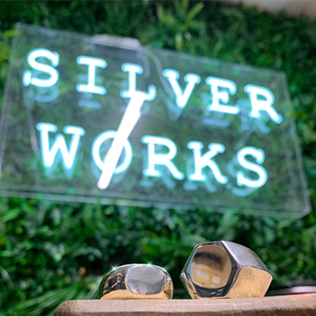 What's Included?

We provide Tea & coffee and some chocolate 😉
All tools and equipment, materials (wax), drills & aprons are provided for the duration of the course.
How much?

The cost of our bespoke 5-week intimate course is just €220.00

Please note, there is 2 small surcharges, separate from the cost of the course, one is for the cost of your silver, which is weighed on its return from casting. The second is for your casting, we send your wax carving to the casters, this won't be any more than €25.