WORKSHOPS
If you're looking for a fun 2 hour or day long jewellery making workshop, look no further! From making a ring, a charm or learning the ancient technique of wax carving, come and get creative with us. You can create your very own stunning piece of jewellery all under the expert tuition of our fabulous teachers.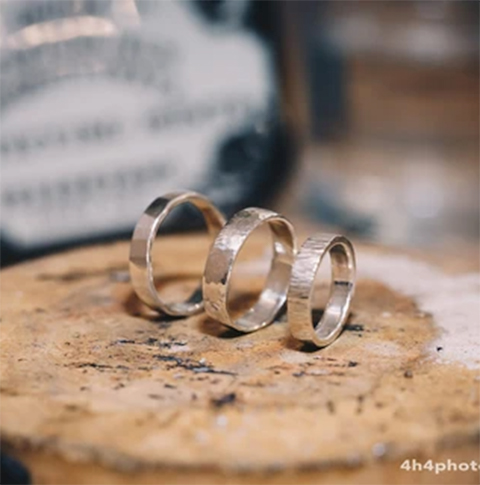 Forge a Silver Ring Workshop
Learn the basics of silver-smithing from sawing, soldering, filing, hammering and polishing to create your own beautiful, handmade silver ring!
(For an additional cost, you also have the option to create your ring in Yellow, Rose or White Gold! Just ask us for full details!)
€80 PP, approx 14 classes run a week, but they book out quick!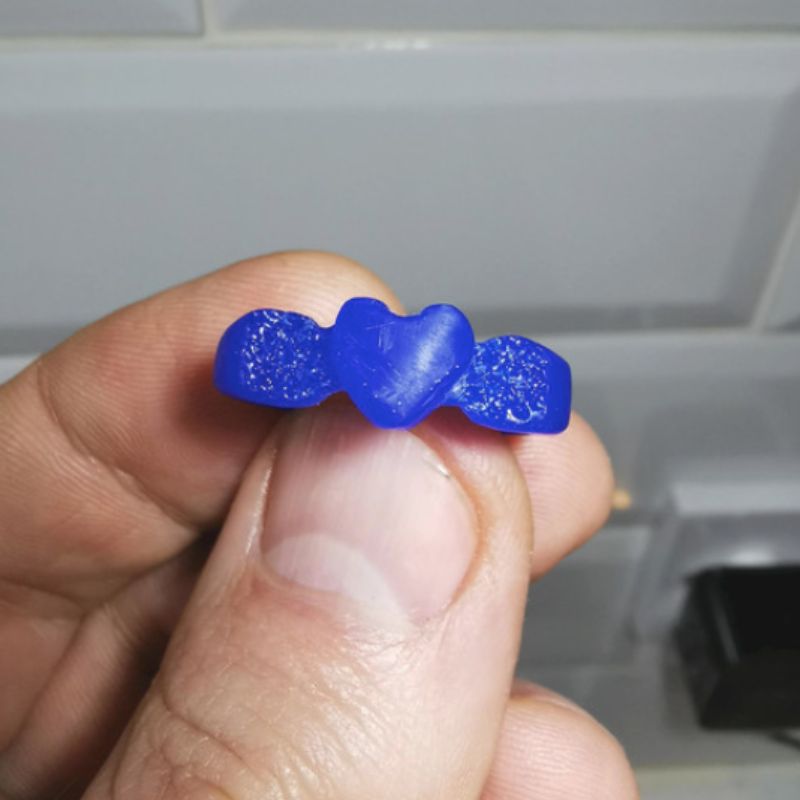 Carve Your Own Ring From Wax Workshop

Learn the ancient art of lost wax casting in our brand new 2.5 hour workshop.
You will carve your own ring on the day and it will then be sent off to be cast into sterling silver.
Cost is only €99 with all material included
Introduction to Metal Clay Workshop
Metal clay is a magical medium that starts out as soft clay that can be shaped and moulded into a unique design with your own design, initial and added textures. When it is fired it turns into real fine silver right before your eyes during the class! Join our experienced teachers on an exploration of this unusual medium and find out its endless possibilities in this 3 hour class.
€95 PP, one class a month, and they book up quick! Next one: 26th August & 7th October 2023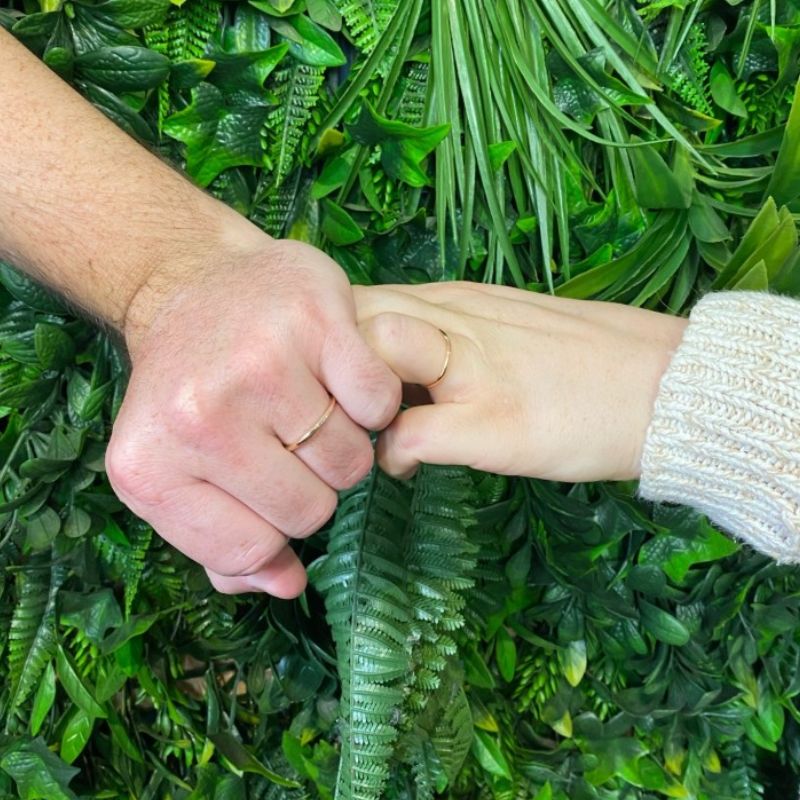 Delight in the experience of a lifetime when you create your dream rings in a 4 hour workshop! One of our most popular Jewellery making classes. 
Sip on a cold, complementary prosecco while our experts guide you through the process, bringing your love to life in the symbol of a ring.
€365 per couple, 3 dates per month, normally on Sundays.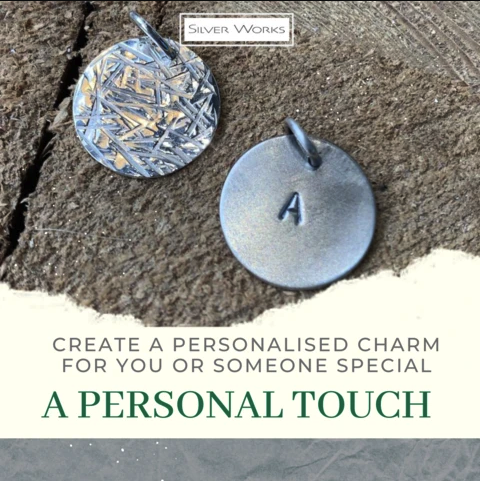 Make An Initialed Silver Charm or Pendant
Make your own sterling silver charm and wear as a necklace or add to a charm bracelet! Create a personalised charm for you or someone special.
€80 PP, one class a month, and they book up quick!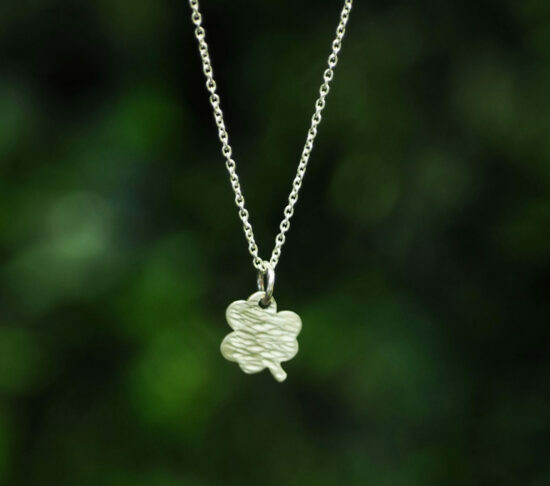 Make a Shamrock Charm Class
Come and make your very own shamrock charm at our studio and enjoy some craic with fellow students! We will teach you the metalsmithing process of creating a charm in sterling silver and you can personalise your charm with different textures and adding a initial to the disc.
Our professional teachers will be here to guide you along the way and you will leave with a beautiful handmade charm to cherish forever.
€80 PP, classes will be held once a month on a Friday evening at 6.30pm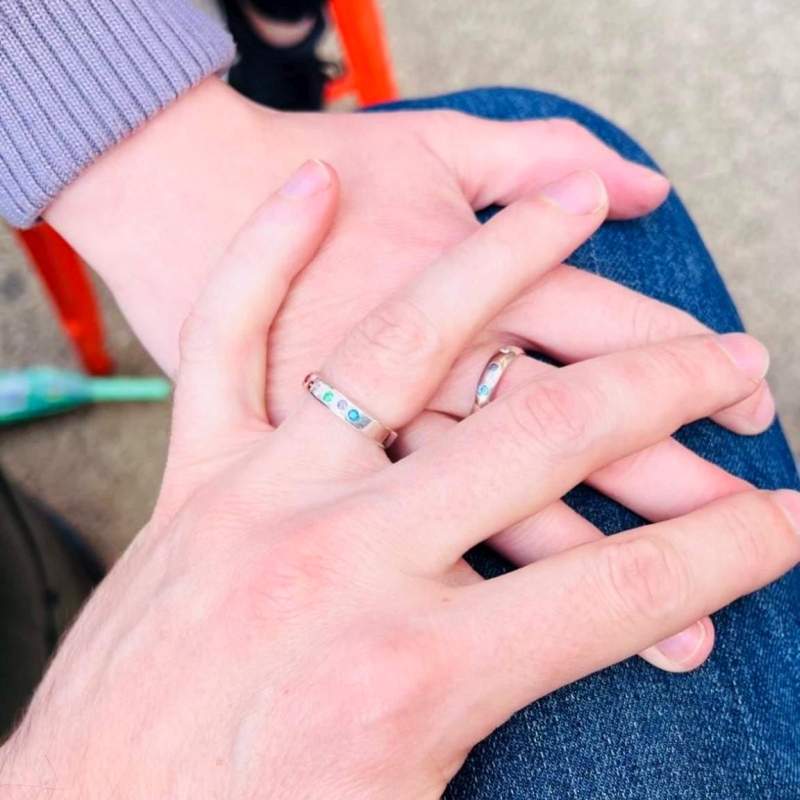 One Day Gemstone Setting Workshop
Learn how to set gemstones in a flush setting in this compact, one day class. Choosing from a pre-made ring or pendant – or both! You will learn how to set the stones inside it so that they lay flush to the silver. Be as creative as you like with where you set them, how many and which colour, ending up with a stunning piece of jewellery to love and wear, having learnt a lot about the art of jewellery making. 
150 euros per person. Next date: 10th September 2023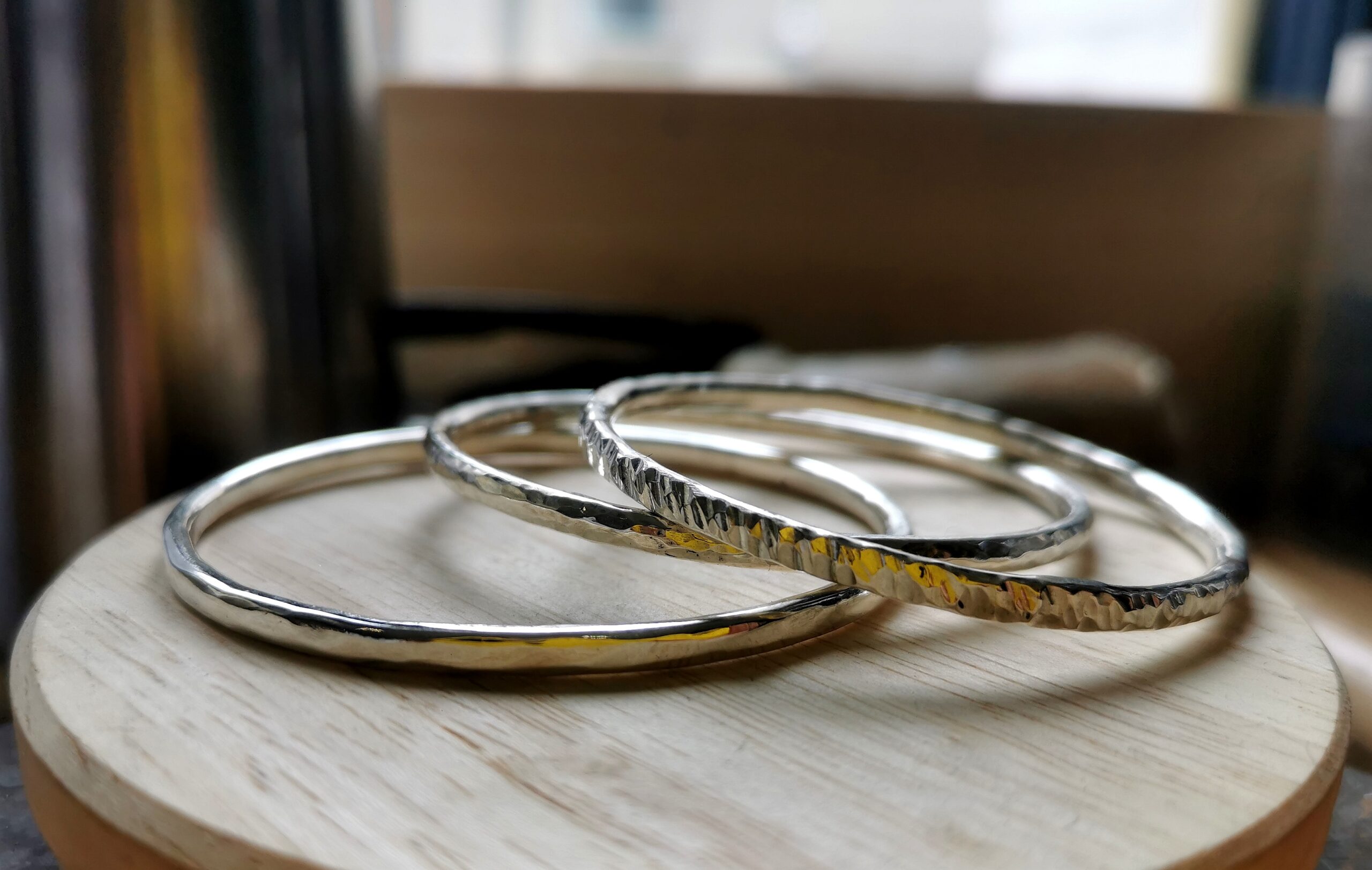 Forge your own Bangle Workshop
Master the skill of forging your own Bangle from a 3mm piece of sterling silver in our 4 hour workshop!  Be as creative as you like regarding the texture or choose from some of our pre-selected textured bangle samples.  After 4 hours you will have a learned an array of skills and techniques needed to move into one of our courses!
€175 Per person. Next Class: 14th October 2023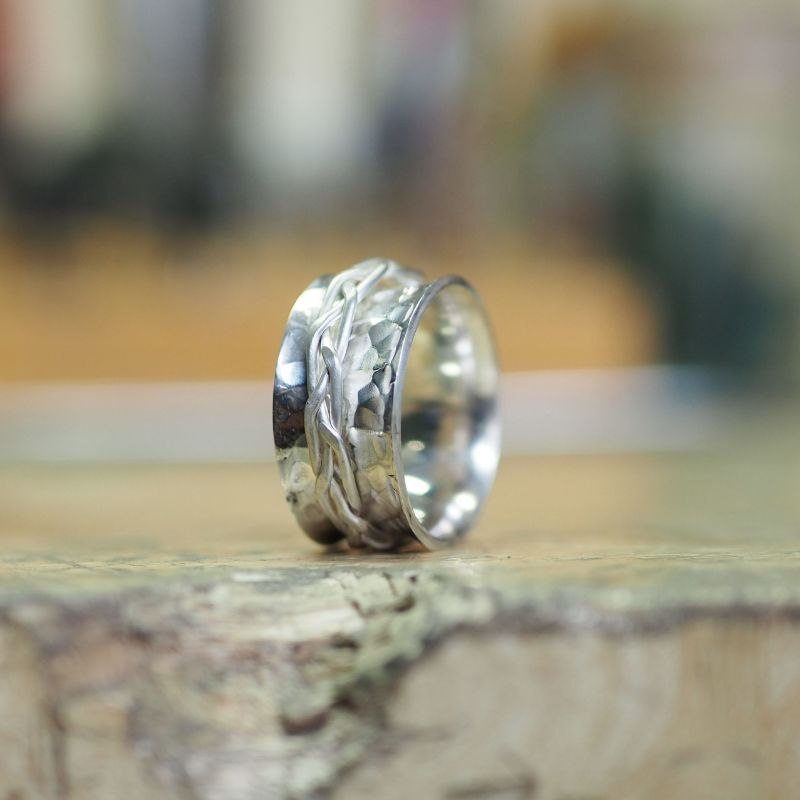 Make your own Spinner Ring Workshop
Did you know a spinner ring are also known as fidget/stress/anxiety rings due to the moving centre being very calming to play with throughout the day? Here is the opportunity to create your own special one from scratch in our NEW spinner ring workshop! You'll be proud to say that you handmade this complex ring yourself in one day's work!
€175 Per person, next class is 9th September 2023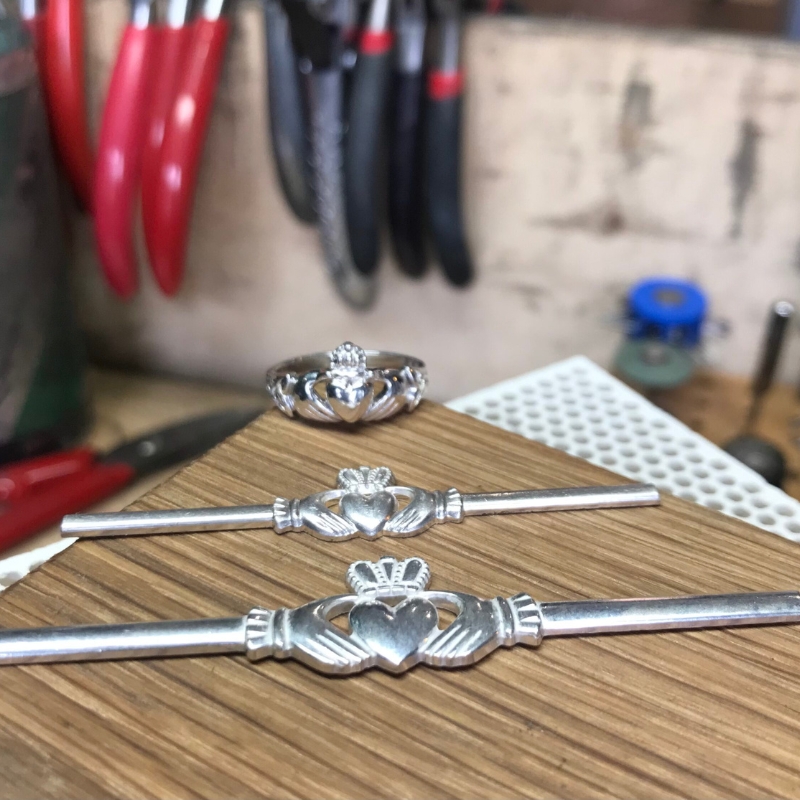 Make your own Claddagh Ring
We are very excited to be offering a new 2 hour workshop – The Claddagh Ring workshop.
Whether you are interested in learning a new skill or want to create something in a fun and relaxed environment, this workshop is for you. During the class you will learn to make your own sterling silver Claddagh Ring.
Cost is just €114pp (€10 extra for wider claddagh ring)
Workshop is run on a weekly basis.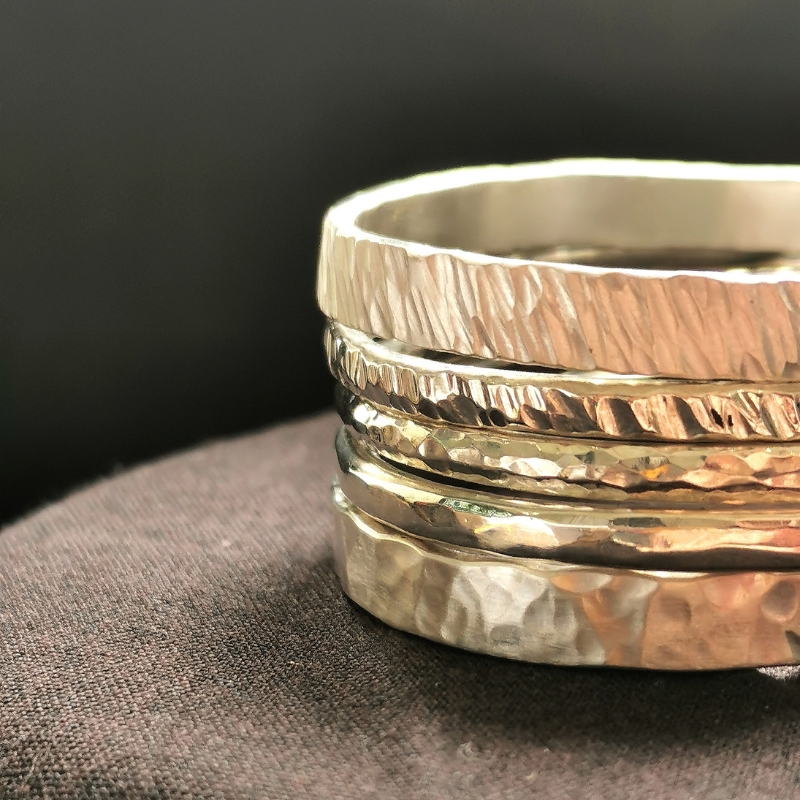 Forge your own Hammered Stacking Rings
We are very excited to be offering a new 4 hour workshop – The Stacking Rings Workshop!
Whether you are interested in learning a new skill or want to create some new rings in a fun and relaxed environment, this workshop is for you. During the workshop you will make three stacking rings all at 2mm in width in either round or square wire! Experiment with textures and finishes to complete your stacking ring look!
Cost is just €140pp
Next Workshop will be: 21st October 2023
GROUP WORKSHOPS
Our 2 hour classes are incredibly popular for girls' nights, hen parties and team building experiences. For all group bookings of 6 or more people, you can enjoy a complimentary glass of Prosecco!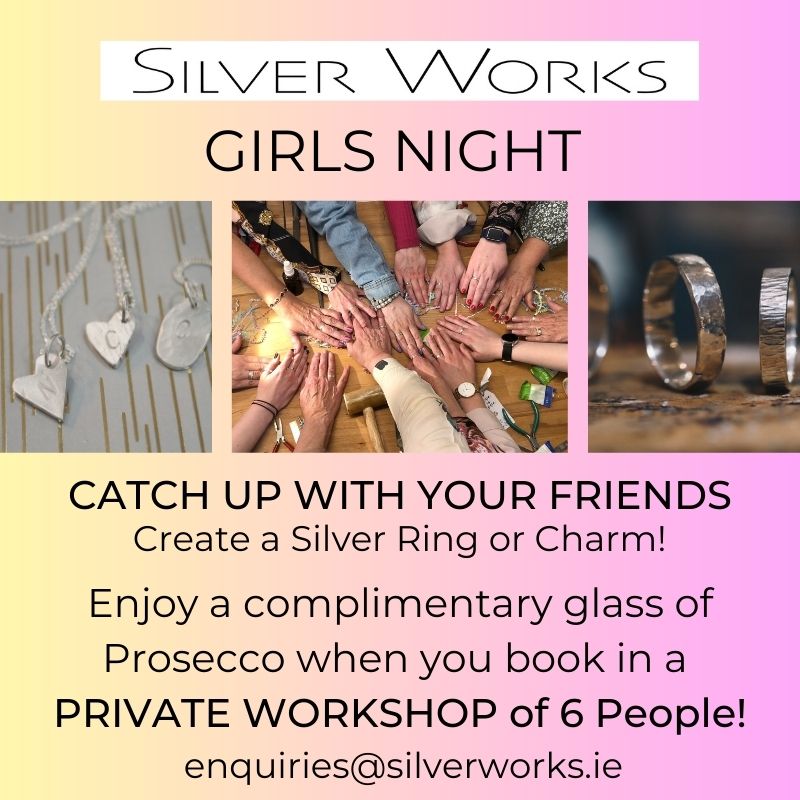 Create the ultimate souvenir- a silver ring or charm- whilst laughing, chatting and bonding with the favourite women in your life! You will learn a new craft and have an experience you will never forget! Nestled in the Creative Quarter in Dublin City Centre, you are in the perfect location to continue on into the night..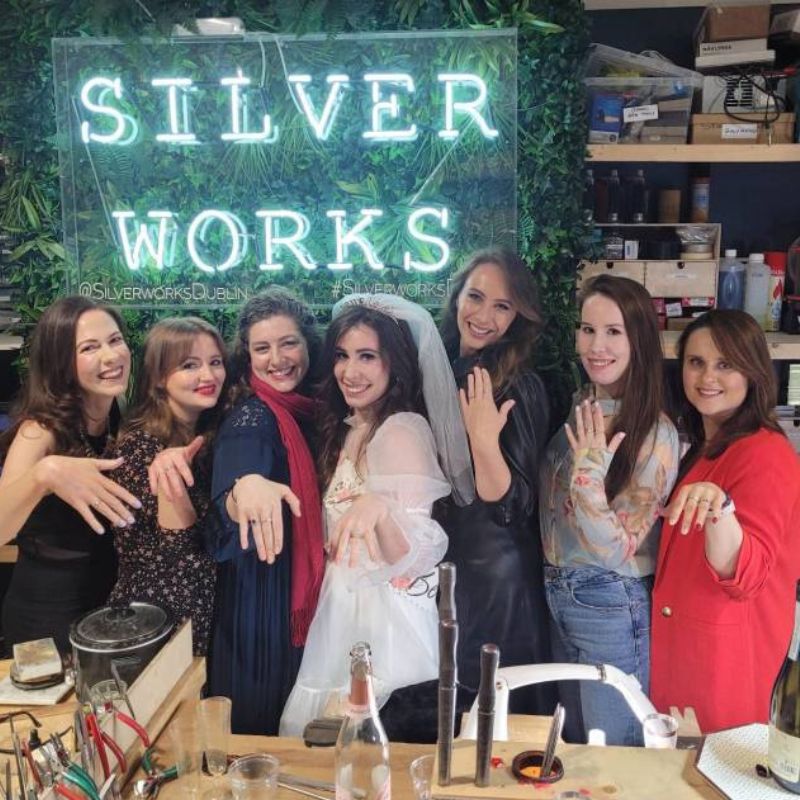 Let our friendly and fun team make this an unforgettable experience for your VIP! Learn the art of jewellery making, whilst bonding with your special group. Making a stunning sterling silver ring or pendant to remember your time by! Situated in the heart of Dublin you are in the perfect spot to continue the party afterwards..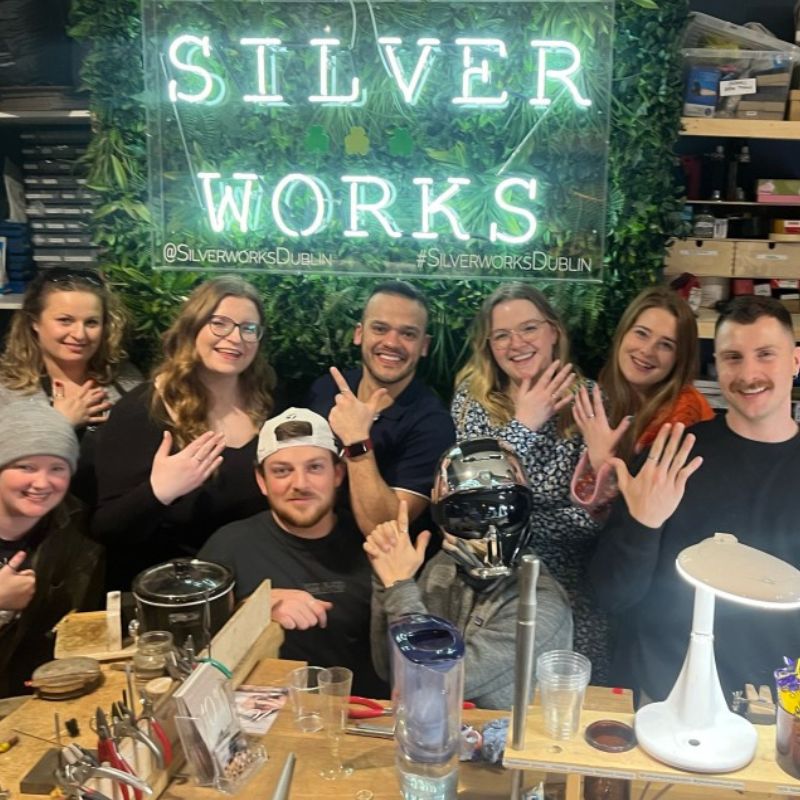 What better way to get to know your work crowd than an afternoon or evening of fun and creativity. Join in on decisions of design, watch each other's methods of making. Help each other through tough parts!
We provide a relaxed, happy atmosphere in our central Dublin location. With fully equipped workshop and tools, you'll get to learn the basic steps in silversmithing and ring making whilst enjoying a complimentary glass of Prosecco.