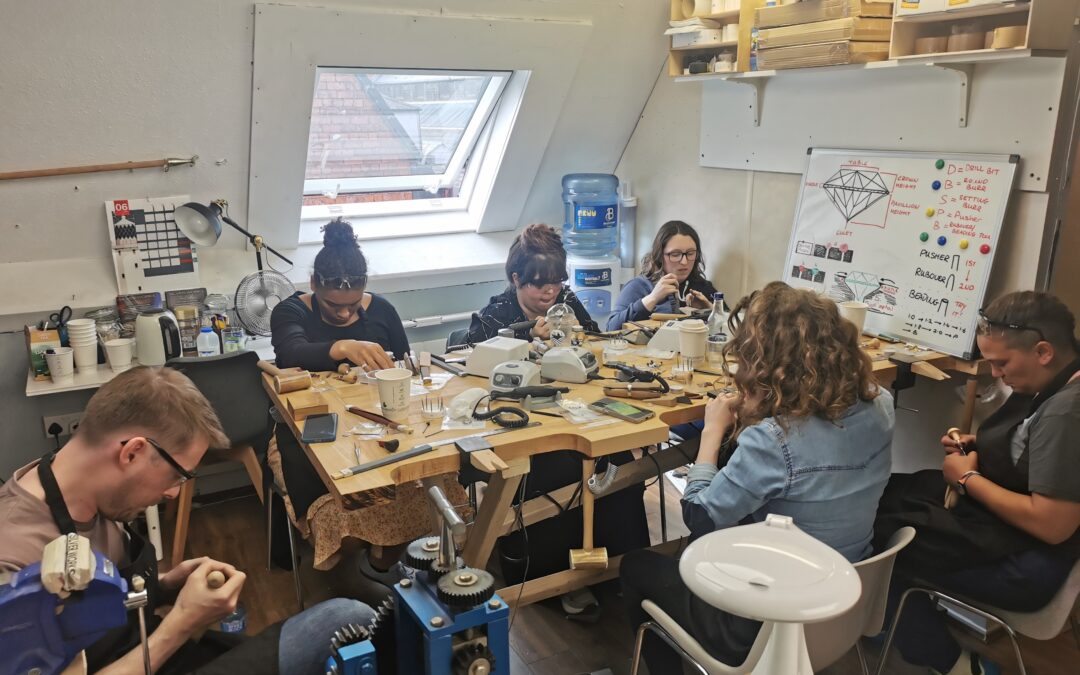 3 Classes To Sign Up To This November at Silver Works Dublin
We're just one week into November and already, diaries are filling up as we go full steam ahead into the party season. Dare we say it but before we know it, Christmas will be well and truly upon us. We're here to remind you that among the chaos, don't forget to factor in a little fun, – the mindful, creative kind as well as all that partying. 
This month we've got plenty happening with our almost daily Forge A Ring classes which are proving more and more popular with teams and Christmas parties and we're hosting our first gold version of the bestselling class at the start of December due to popular demand to make gold pieces during the class. 
Here's the low down of which classes to sign up for this month. 
The Make a Silver Charm class walks you through a ten-step process to make an initialed silver charm or pendant. You'll be able to wear the charm as a pendant and can make use of a special discount to purchase your own necklace to add your charm to or add it to your favourite charm bracelet. 
You can choose from eight different shapes for your charm, including (but not limited to) a circular disc, diamond, star, square, or heart and will learn different hammering techniques to create your own texture on the charm.
Choose to add your initials before drilling a hole in the top of your charm so that it can be added to your bracelet or necklace once complete. Final touches allow you to decide if you want a super sparkly or edgy matte finish for your charm. With the guidance of our expert teachers, you'll learn how to create your desired finish using the polishing machine.
The class takes place over a two-and-a-half-hour period and by the end, you get to walk away with your finished, handmade charm, totally unique to you. 
Our One Day Gemstone Setting Class is the perfect place to start if you want to try your hand at Jewellery Design and making or if you have existing skills from previous courses and want to develop your skills further and this one – happening on 27th November – marks our final Gemstone Setting class of the year. So if it's been on your 2022 bucket list to invest in your creative skills, this is your chance to tick it off before the year is out. 
The class size is kept small so that our students benefit from getting the most out of their time with our teachers and so that you feel comfortable and confident exploring your new skill. 
In this fun, flexible, one-day class, you'll learn how to set gemstones using a flush setting into a sterling silver ring or pendant. Gemstone setting can be a little tricky so to enable a focus on this skill in particular, all sterling silver rings and pendants are pre-made for you to practice setting your stones into. 
Spend the morning practicing on copper before going all in on the real thing and setting your gemstones into your final sterling silver piece in the afternoon. 
This class is open to all learning stages, with the support and guidance of our expert goldsmith tutors who are there to guide you throughout.
While not technically happening in November, this is a class you'll need to book ASAP due to high demand. 
We've been inundated with requests to offer a class where you can make your own ring, in gold, and here it is! 
For those of you who want to learn from scratch how to make a ring of your own, you now have the chance to do so in solid gold. For those who prefer more delicate styles to their rings, you can opt to use the 2mm square wire. The alternative is to use a 4mm sheet, the same as our bestselling Forge a Silver Ring class, but in solid gold. 
With the help of your expert teacher leading the class, you'll learn the basics of jewellery making step by step and walk away with a stunning gold ring of your own making to love and cherish. 
Book one of our best-selling jewellery-making workshops at Silver Works Dublin this November