Group Workshops
Our 2 hour workshops are incredibly popular for girls' nights, hen parties and team building experiences. For all group bookings of 6 or more people, you can enjoy a complimentary glass of Prosecco! Book your group's night out today!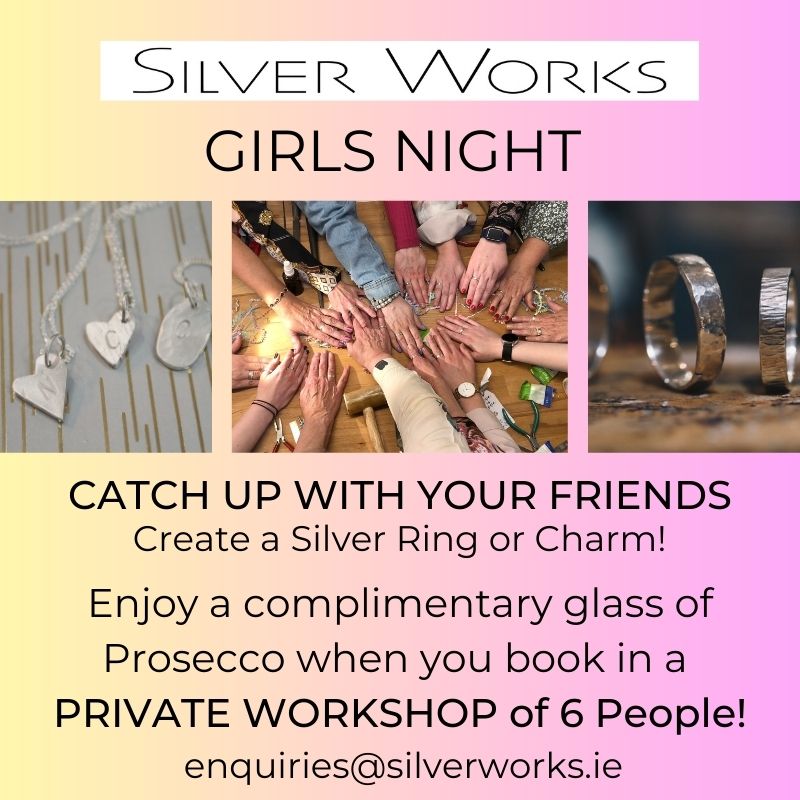 Create the ultimate souvenir- a silver ring or charm  – whilst laughing, chatting and bonding with the favourite people in your life!
You will learn a new craft and have an experience you will never forget! Nestled in the Creative Quarter in Dublin City Centre, you are in the perfect location to continue on into the night..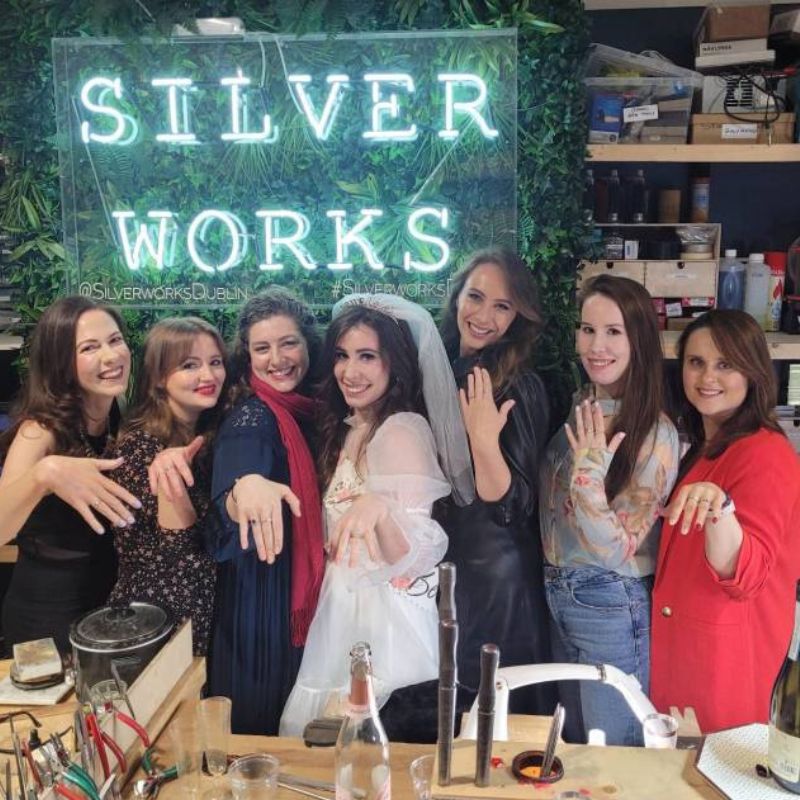 Let our friendly and fun team make this an unforgettable experience for your VIP! Learn the art of jewellery making, whilst bonding with your special group.
Making a stunning sterling silver ring or pendant to remember your time by! Situated in the heart of Dublin you are in the perfect spot to continue the party afterwards..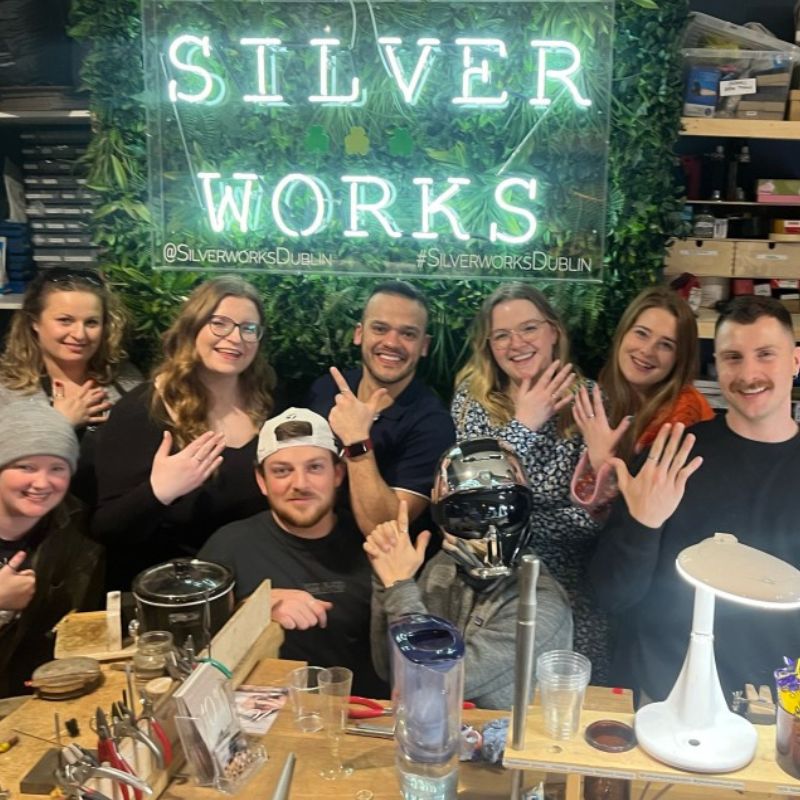 What better way to get to know your work crowd than an afternoon or evening of fun and creativity. Join in on decisions of design, watch each other's methods of making. Help each other through tough parts!
We provide a relaxed, happy atmosphere in our central Dublin location. With fully equipped workshop and tools, you'll get to learn the basic steps in silversmithing and ring making whilst enjoying a complimentary glass of Prosecco.
Forge your own Ring Class
Our 'Forge your Own Ring' class is our most popular class! Running for approx. 2.5 hours, it's the perfect starter activity to get your group chatting, laughing & creating!
Leave our city-centre studio with a sparkling or matte finish ring (you decide!), the perfect reminder of time spent with your pals!
Enjoy a complimentary glass of Prosecco on us during your workshop too!
Make your own Silver Charm with your initial
Wear it yourself or if you can bear to part with it, why not add it onto a charm bracelet as a unique gift for someone special? A beautiful token of your friendship or love & the precious time you've spent together.
Once you've completed your class, you'll be in the best spot in town for some celebratory food & drinks. Our studio is based in the heart of Dublin's Creative Quarter. With a buzzing atmosphere & a quirky, alternative vibe, you'll ensure you're making the most of the night ahead with your friends in Dublin.
Group Booking Prices
Ring Making/Charm Making
€80 per person
For groups bigger than 25 please enquire directly.
Carve A Wax Ring/Charm
€99 per person including having your piece cast into silver.
Optional additional costs
Gold Plating €25
Engraving €30
Stone setting (Price is quoted per stone and type of setting)
Please note, we book up fast! If you'd like to check a possible date with us, just drop us a line at enquiries@silverworks.ie and we will get back to you
Booking Process
Choose a date and time that suits your group.
We will confirm this date and time and if unavailable we will suggest an alternative.
Confirm your details for enrollment.
Consent to these booking terms and conditions.
We will send you a payment link to pay 50% of the event upfront to secure your booking. If it is within 30 days of the event we will require full payment.
We will send you an order confirmation email, at which point your booking will become a binding contract, or we will confirm by email that we are unable to meet your booking request.
Price & Payment
A deposit of 50% is needed upon booking your event if it is more than 30 days before the event. If it is within 30 days then full payment is required. We may cancel the contract between us if the amount is not received from you.
Payment must be made by credit/debit card via our online payment link OR over the phone by calling Silver Works. Once payment has been received we will send you an email confirmation.
Prices are liable to change at any time, but changes will not affect bookings which have come into force.
Cancellation & Rescheduling
In order to cancel a booking, you must inform us by email at 
enquiries@silverworks.ie
Your cancellation must be confirmed as received by us on or before the relevant dates, as set out below.  All cancellations and transfers are subject to an administrative fee of 10% of the cost of the class/course.
If your written request is received more than 30 days before the event is due to begin, you will be entitled to a full refund of the amount paid, less the administrative fee.
If your written request is received within the 30 day period before the event, you will not be entitled to a refund for your place.
Cancellations requested after the course/event has started will not be considered.
Transfer to an alternative course/event should be requested in writing at least 14 days before the course start date.
Transfer requested less than 14 days before the event may be declined unless a replacement student can be found for your place prior to the start date.
If you fail to attend a course, event or class, no refund will be given, and no transfer request will be accepted.
If a class is cancelled or postponed for reasons for which we are responsible, such as staff illness, we will make every reasonable effort to reschedule the class to suit the majority of attendees, or add missed hours onto remaining classes.
Please note that all courses require a minimum number of attendees. If too few bookings are received, courses may be rescheduled.
Gift vouchers are not refundable in any circumstances.
If you cancel a course and are entitled to a refund, we will usually refund any money received using the same method originally used by you to pay for your purchase. We will process the refund due to you as soon as possible and, in any event, within 30 days of the day we received your valid notice of cancellation.
FAQ
Do I have to pay upfront for my booking?
We take a 50% deposit on booking and the balance is due 2 weeks before the event.
How can I pay?
We can send you a payment request via PayPal.You can pay over the phone via our Jewellery store 'The Collective'.You can call into our store and pay cash or card.
How long does the class run for?
Whether you opt for our charm/pendant making class or our ring making class, you will in the workshop for approx 2-3 hours.
Some of my friends want to do the ring making and others want to make a pendant or charm, can we mix the classes?
Unfortunately, we are unable to mix the classes as they have very different steps involved. Your friends will need to decide on one – heads or tails /rock, paper, scissors always helps if in doubt 🙂
I want to make my piece in gold, is that possible?
Unfortunately, we no longer offer this. You can arrange with your teacher after your workshop to have your beautiful piece gold plated though.
We'd love to hear from you, drop us a line to enquiries@silverworks.ie
We aim to get back to your query within 24 hours. During this time we are working with a smaller team, so please allow 72 hours if you email us at the weekend.
Why Silver Works?
Unlike traditional institutions, our priority is to help you learn & develop a new skill, not profit. 
This is why we offer only 6 places within our bespoke courses, so you get the most out of each class!  
You will be taught by a highly experienced goldsmith/silversmith, working within the industry who has an abundance of Jewellery design experience.
How many people can we bring?
We have 4 workshops- 3 workshops that hold 12 people in each and a further one which holds 6. As it is a beautiful old building right in the centre of Dublin its rooms are small enough.
So for larger numbers please note you can book out the building but you will be in different rooms for your own comfort. If you would like to find a larger venue you can do!
Let Silver Works bring the party to you?
 We will bring the fun to your own location and your group can relax in a place of your choosing. 
Conditions 
Minimum 10 people. MAX 30 people. 
30 Max for forge a ring and charm making classes, for wax carving classes there is no Max number! 
We need to know how many extra tables and chairs we need to bring. It must be in a bright room, and everyone needs to be seated at some kind of table! Over max 2 rooms.
€100 call out fee for wax and charm workshops that includes up to 1 hour driving.
€150 call out fee for forge a ring workshop that includes up to 1 hour driving.
Health and Safety
We ask that you wear closed shoes. You will be provided with aprons to keep your clothes clean. If you have any questions or suggestions, please feel free to get in touch with us today at
enquiries@silverworks.ie
Áine Walsh , Aug 2021
"This was so much fun! I was a little nervous going in as a beginner, but our instructor was very helpful and explained everything clearly. Definitely an experience I would recommend!"
Ricardo Cofré, Sept 2021
"I took a course of setting stones. It was absolutely useful for me. The work stations, the tools, and the space are excellent. The teacher is very didactic and patient. Thank you!"
If you have any questions, please do not hesistate to contact us at
enquiries@silverworks.ie
and we will get back to you as soon as we can.