An experience of a lifetime
Make your own unique wedding ring in our specially designed 4 hour wedding ring workshop!
Never made jewellery before? No problem! You will be guided through the workshop with our expert tutors to make your bespoke rings. Have a look at our gallery to see some beautiful past designs
Design Decisions
Metal Choice – Sterling silver, yellow gold, white gold or rose gold and platinum.

Width – How wide do you want your band? 2mm – 8mm

Shape – What profile do you want for your ring? Choose from D – Shape, Court , Oval or Round.

Style and Finish – Hammered texture or polished finish?

Engraving – Would you like a name, date and or bespoke engraving?

Stone Setting – What stone/s would you like and how many?
These choices must be decided at least 2 weeks before the workshop start date so we can order your precious metal and stones and have them ready for you.
What's included?
Here are the extras that are included in every one of our Wedding Ring Workshops.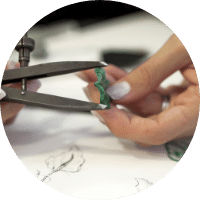 Design
Each design option has been expertly chosen for this workshop.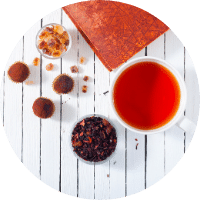 Fuel
 We provide complimentary tea, coffee and plenty of chocolate to get you through the workshop.
At the end we will polish your rings while you enjoy a glass of bubbly.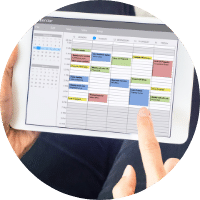 When
 On the first Saturday of every month from 2-6pm.
Please note if it happens to fall on a bank holiday the workshop is held on the following weekend.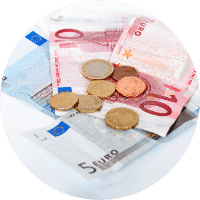 Cost
 The workshop costs €350 per couple.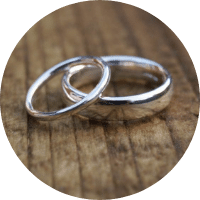 Inclusions
Sterling silver is included in the class price and you can choose from any of our gold options for an additional cost.
Metal Options & Gold Prices
Here you can get a guide to what your ring may cost in different metals. We offer white, yellow, rose gold and Platinum. Here is our metal prices – updated January 2023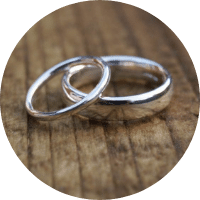 Sterling Silver
Included in workshop cost.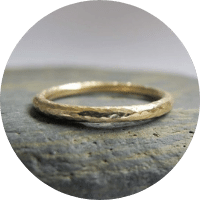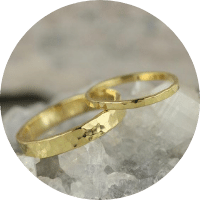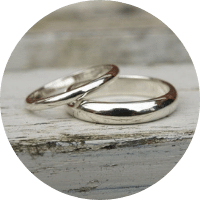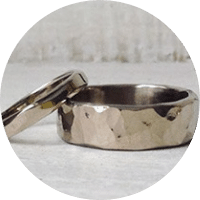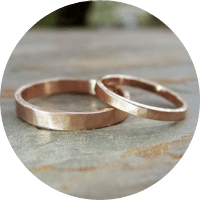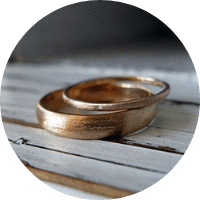 Shape Options
We have many different shape options for you to choose from.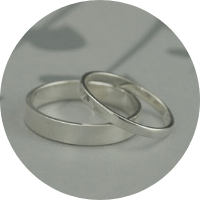 Flat
Straight edges and flat sides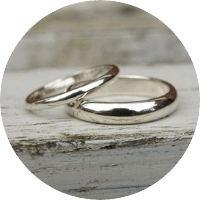 D Shape
 The classic wedding band which is curved on the outside and flat on the inside.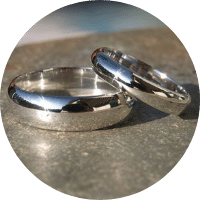 Oval/Court
 Also known as a comfort fit ring which is curved on the outside and inside.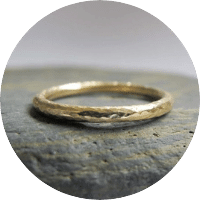 Round
 Continous round curve. This options suits only the 2mm and 3mm options.
Styles & Finishes
You can choose between 7 different styles and finishes with the main ones being Hammer textures and different variants of polishing.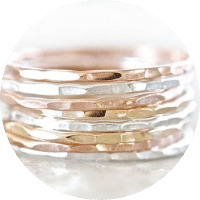 Flat Hammer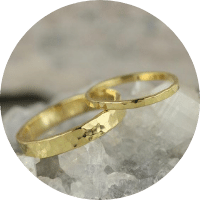 Small Dimple/Gold Ball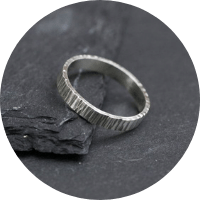 Tree Bark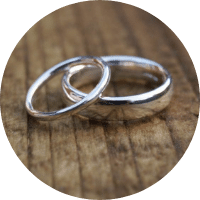 No Hammer Texture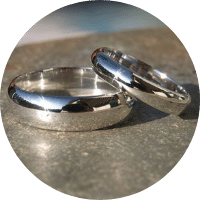 High Shine Polish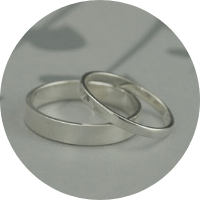 Matte Polish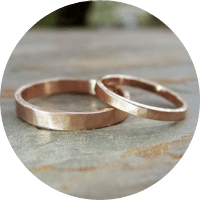 Satin Finish
Width Options
This refers to how wide you want your wedding band to be.
Here are the recommended shapes and widths: 
Flat Shape – 2mm, 3mm, 4mm, 5mm, 6mm, 7mm, 8mm.

D Shape –  2mm, 3mm, 4mm, 5mm, 6mm, 7mm, 8mm.

Oval Shape – 3mm, 4mm, 5mm

Starting depth for 2mm rings are 2mm

Starting depth for 3mm – 8mm rings are 1.5mm – 1.65mm.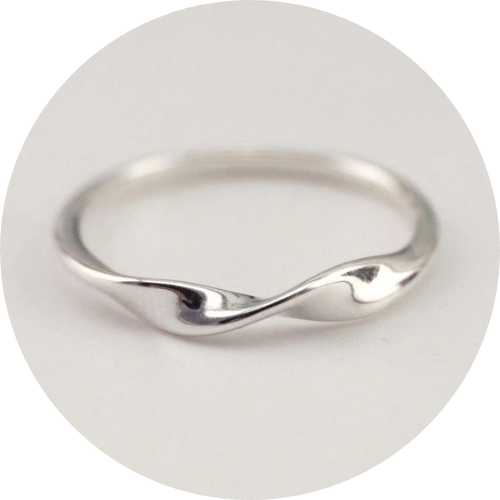 Twisted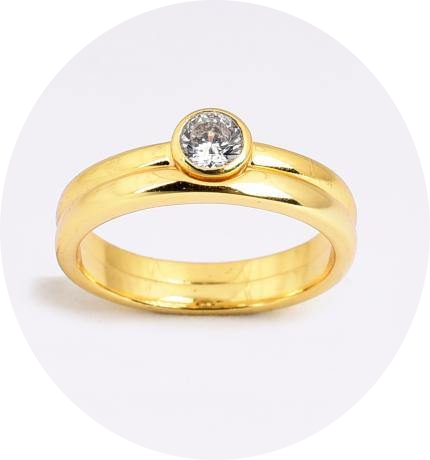 Curved
Shaped Wedding Bands
Curved Shape
In our workshop we can guide you through making a bespoke curve to fit around your engagement ring. This wedding band will not be a fitted style but it will flow around the stone of your engagement ring. We recommend making this style ring with a 2mm width and maximum 3mm width in a round shape.
Twisted Shape
We can also do a twist in your wedding band with a maximum width of 4mm. This style works best with the flat shape
Engraving
Need a date, words or bespoke pattern? 
We can send your beautiful handmade wedding rings to an expert engraver. The lead time for this is 2 weeks.
Cost for engraving date or initials: €25

Cost for engraving both date and initials: €30

Cost for engraving a bespoke pattern: €70
Stone Setting
Would you like a stone in your wedding band?
We can send your beautiful handmade ring to a skilled stone setter. The lead time for this is 2 weeks.We recommend starting with a 2mm depth metal for this option. The type of setting we can do for you is a flush set with a round stone. 
2mm bands – 1.75mm Stone

3mm bands – 2.75mm Stone

4mm bands – 2.75mm Stone

5mm bands – 2.75mm Stone

6mm bands – 3.75mm Stone

7mm bands – 3.75mm Stone

8mm bands – 3.75mm Stone
Note: For sterling silver rings it is not recommenced to set diamonds in them. Please get in touch for stone prices.
Cancellation & Rescheduling
Want to Request a Specific Date or Send an Enquiry? Email us here
Open Hours
Weds – Sun: 10:00am-6:00pm