Claddagh Ring Workshop at Silver Works Dublin
Are you looking for a unique and meaningful way to express your love and commitment? Have you always been fascinated by the Claddagh ring and its rich history? Then join us for our Claddagh ring making workshop!
What is a Claddagh Ring?
The Claddagh ring is a traditional Irish ring that features two hands holding a heart, topped with a crown. The design symbolizes love, loyalty, and friendship, making it the perfect way to express your affection for a loved one or to honour your own Irish heritage.
The Claddagh ring has since become a beloved Irish tradition, with many people wearing it as a symbol of their heritage and as a reminder of the importance of love, loyalty, and friendship. Today, the ring is often given as a gift to loved ones or as a token of friendship. It is also used as a wedding ring, with the design representing the commitment of the couple to each other.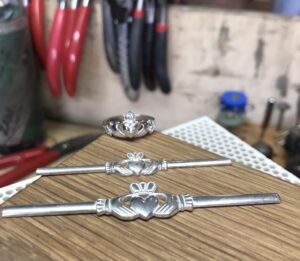 The History of the Claddagh Ring
The history of the Claddagh ring is rooted in Irish folklore and dates back more than 300 years. The story of the Claddagh ring begins in the small fishing village of Claddagh, located just outside the city of Galway in Ireland. The ring was first created in the early 1700s by a local goldsmith named Richard Joyce. According to legend, Joyce was captured by pirates and sold into slavery in North Africa. During his captivity, Joyce learned the art of goldsmithing and created the first Claddagh ring.
After being released from slavery, Joyce returned to his hometown of Claddagh and presented the ring to his true love. The ring became a popular symbol of love and loyalty among the locals, and it soon spread throughout Ireland.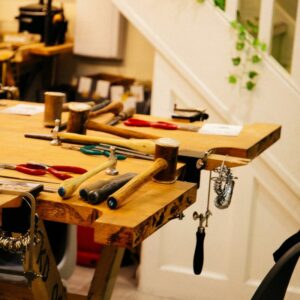 What happens in our Claddagh Ring Workshop
Our workshop will be led by experienced teachers who will guide you through the process of making your very own Claddagh ring. You will learn the traditional techniques used to create these beautiful rings, including soldering, shaping, and polishing.
No experience is necessary, and all materials will be provided. You will begin with a Claddagh Ring strip and you will then learn basic gold smithing skills to transform this into a beautiful, made to measure Claddagh Ring. You will leave with a beautiful and timeless Claddagh ring, made by your own hands, that you can treasure for years to come.
Who is this workshop for?
The workshop is perfect for couples looking for a unique and meaningful way to express their love, or for individuals who want to create a one-of-a-kind piece of jewellery that honours Irish heritage.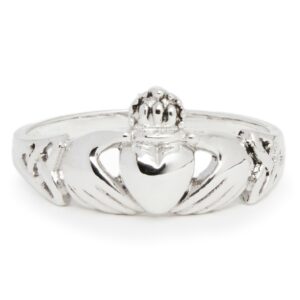 How can you book your place?
Our workshop is available on a first-come, first-served basis, so be sure to reserve your spot today.
Click here for all class details and booking link.
Whether you're looking for a romantic date night idea or a fun activity with friends, our Claddagh ring making workshop is sure to be a memorable and rewarding experience.
Don't miss this opportunity to learn the traditional art of Claddagh ring making and to create a meaningful and timeless piece of jewellery. Join us for our workshop and discover the beauty and symbolism of this beloved Irish tradition.