Silver Works Wax Carving
For those of you who are serious about your jewellery skills and want to know it all, our Weekend Wax Carving Course is an unmissable workshop.
What is Wax Carving and How it Works
For centuries, jewellery artisans have been sculpting their own jewellery designs from wax. This ancient technique dates back nearly 6000 years and is still widely used to this day by contemporary jewellery designers.
Beginning with a piece of jeweller's wax, different techniques are used to file and carve the wax into your desired shape. Then, the wax is sent to a caster to be cast into metal. Finally, your piece of jewellery will be ready for the finishing touches such as polishing and gem stone setting.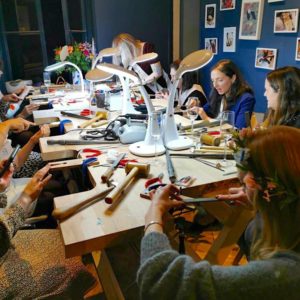 How we do it here at Silver Works
To begin, you will start by deciding what you want to create.  You can bring your ideas into your first class or even email them on beforehand to get some feedback before you come in. We recommend that you bring in some images or simple sketches to articulate your idea, as this will make the most of your class time.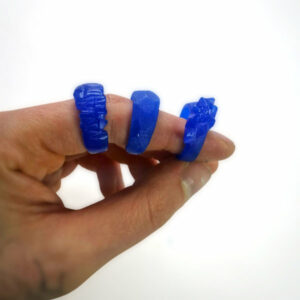 The Wax Carving Process
You have the option to design a ring or a pendant. Once your design is clear, you will carve and file your design into the piece of wax. The wax is smoother and much nicer to work with rather than carving within the silver directly, this is why this technique is often used within the industry.
Once you're finished carving your design, it's then ready to be cast.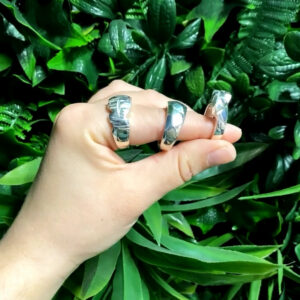 From Casting to your Finished Pieces
Once we receive your carved wax ring, we send it off to a professional casting company who use an ancient process called "Lost Wax Casting" to cast your ring in silver. First a plaster mould is made of your wax, the mould is then placed in a kiln overnight to allow the wax to be burned out, finally molten silver is poured into the cavity where your wax used to be, creating an exact replica of your design! We then clean and polish your pieces so they're ready to be worn.
Is  our Wax Carving  Weekend right for you?
Wax carving is an essential skill set for anyone who wants to explore the possibilities of jewellery design and making. It is also a great way to experiment with an affordable material and develop designs that are only possible using wax.
When and Where is the Course Happening?
Our Wax Carving Weekend happens right here in our Silver Works studio on Drury Street in the heart of Dublin. This two day course allows for plenty of time to bring your creative designs to life. Beginning on Saturday from 10 – 5.30pm and continuing on Sunday from 10 – 2pm. Our central Dublin location means there are plenty of lunch options to choose from.
*Please note: Finishing touches will be applied two weeks after your course weekend on a Saturday from 10-1pm, when you will be able to take home your finished piece!
You can learn more about the course details here https://silverworks.ie/weekend-wax-carving-course/