We want to tell you about all the exciting things we have coming up at Silver Works this month of March.
For those of you visiting our beautiful city for St. Patrick's Day Weekend we are running our Make a Shamrock Charm class.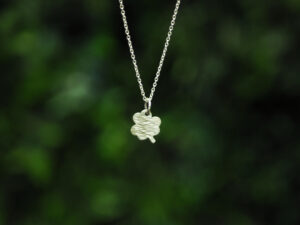 You can make your very own shamrock charm at our studio and enjoy some craic with a complementary glass of Guinness! We will teach you the metal smithing process of creating a charm in sterling silver and you can personalise your charm with different textures and add an initial to the disc. ☘️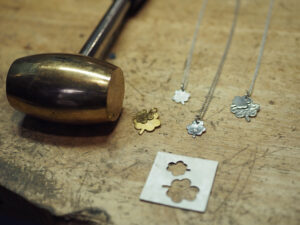 How much are we talking?
€85 PP and you get to keep your gorgeous pendant/charm.
Why Silver Works?
Unlike traditional institutions, our priority is to help you learn & develop a new skill, not profit.
You will be taught by highly experienced goldsmiths, working within the industry who has an abundance of jewellery design experience.
What's Included?
We provide Tea & coffee and some chocolate.
All tools and equipment, drills & aprons are provided for the duration of the course.
All the silver needed to make your charm, if you would like to purchase a chain to put it on we have them on offer at discounted prices or else you can put them on your own chain or bracelet.
After you have finished
That's it –  your charm has been handmade by you! Add it to your necklace to wear as a pendant or add it to your charm bracelet as a keepsake of a time well spent! If you wish to purchase a necklace to add it to, we offer special discounts for our class goers – 20% off on all chains.
We really can't think of a better way to spend two hours over this Paddy's Day weekend.
So, gather your crew, phone a friend or come by yourself. We promise to give you a warm Irish welcome and a unforgettable creative experience.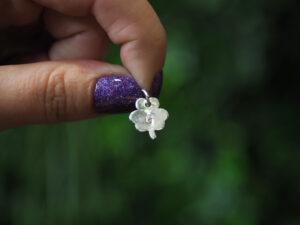 What else is going on this March?
Also happening this month is our 5 Week Introductory Jewellery-making Course starting Wednesday 15th of March.
This course is perfect for those of you who want to immerse yourselves in a new creative outlet. It is especially suited to anyone serious about improving their jewellery making skills.
On this course you will learn:
⚒ How to make a plain ring band to your exact measurements.
⚒ How to drill holes using the micromotor and use the shaving technique of sawing.
⚒ Make the bezel set for your stone of choice using the gas tank to solder.
This course runs over a 5 weeks and costs €350. Click here for a full break down of what to expect on this fun and interactive course.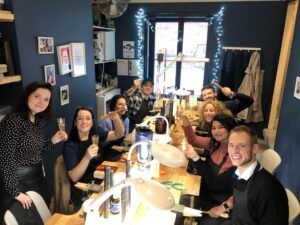 Our ever popular, Forge Your Own Ring classes will be running frequently throughout the month of March so you can always book at a time and date that suits you.
As with all our courses, our professional teachers will be here to guide you along the way.
We can't wait to welcome you to Silver Works!